WHAT TYPE DECKING PROFILE
WORKS BEST FOR YOU?
Standard &
Pregrooved Decking
For traditional outdoor and uncovered decks.
Standard and pregrooved decking are an ideal option to be installed on both outdoor decks and docks. When fitting outdoor decking be careful to leave a distance between deck boards of 3/32" for air dried material or 1/4" gap for kiln dried material. The difference in gap spacing is to guarantee that the decking has room to expand and contract based on the resources chosen and the natural environment where it is installed.
OUR APPROVED METHOD
Ipe Clip® Method: The Ipe Clip® system employs exceptional strength plastic clips that fit into slots cut into the edge of the deck board, which then sits on top of a joist. A stainless steel screw is then drilled down into the joist beneath. With the Ipe Clip® system, no screws or holes show from the surface.
Ipe Clip Install Guide
Deck Groove Profile

A = 5/32"
B = 1/2"
C = Measurement of deck board thickness
D = (C-A)/2 Note: This will center groove in the board
ALTERNATIVE METHODS
Face Screw & Plug Method: Start by countersinking 3/8" holes into face of deck boards. Predrill 1/8" pilot holes completely through the deck boards. Screw the deck boards down with stainless screws. 3/8" Ipe plugs are then glued into the holes with a waterproof adhesive. After inserted and glued, plugs can then be knocked away with a chisel and sanded smooth with 80 grit sandpaper.
DeckWise® manufactures a line of Hardwood Plugs in the forms of Ipe, Cumaru, Tigerwood, Garapa, & Massaranduba in 3/8" diameter with a small taper. For holes that are not drilled perfectly round, we also manufacture our ribbed Extreme Plugs® in three different sizes (3/8", 10mm, & 12mm).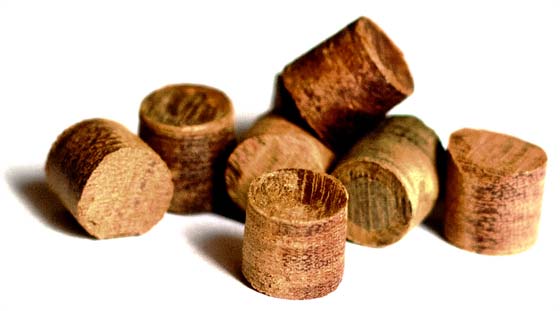 Finish Screw Method: Stainless steel #7 or #8 trim head screws are screwed into the face of the decking. Advised two per joist. The trim head screw is particularly small and just slightly noticeable.
Tongue & Groove
Patio Decking
For use on covered porches, patios, and terraces only.
Enjoy your deck the entire year-round... Decks are no longer just for the summer season! T & G decking is the perfect selection for any covered porch. So forget about only making the most of your deck in the the summer season. Give yourself a deck that you can love at any time of the year. T & G decking has no gap spacing in between the boards after it is installed, comparable to interior hardwood floorings.
T & G decking will need to be fitted straight on top of the floor joists, not on a sub floor as the decking will need cross ventilation underneath it. The material will require to be under cover and have a pitch to allow for drainage. For installation we suggest that you pre drill a hole on a 45-degree angle where the tongue and the face touch, you will see a slight v-groove in this corner. Then, on that same 45-degree angle drive a trim head screw through the pre drilled hole, through the deck board into the floor joist. This sinking action will allow the next deck board to slide into place and will perfectly conceal the previously installed screw head. DeckWise® offers their line of Colormatch trim head screws in three different color options perfect for this application.
IMPORTANT
NOTICE
You must make contact with your local building section before you set forth designing your project. Your local building sector (and/or Homeowner Association) will notify you of any zoning ordinances and buildings codes that determine where and how you can build. You are accountable for applying for and obtaining any and all required permits for your project.
DeckWise® provides this advise as possible suggestions only and will not be held accountable for your project's viability or should you decide not to acquire the required permits, or if you fall short to comply with all zoning ordinances and building codes.