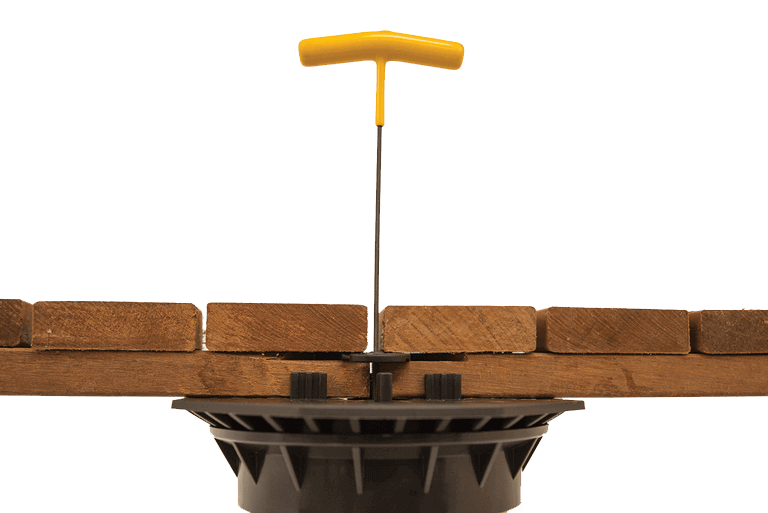 24" x 24" Hardwood Deck Tile
Elevating System
The DeckWise®, Altitudes Pedestal® System has been developed to build perfectly horizontal decking over underutilized spaces such as sloped roof tops and plaza areas. Pedestals will elevate 24" x 24" modular hardwood deck tiles over cracked concrete or walkways to build patio areas into beautiful spaces.
The Altitudes Pedestal® System enables anyone to easily and quickly build an elevated all-natural hardwood deck surface. Build over sloping or uneven substrates - over pipes, cables, drains or service ducts ‑ without the need to construct expensive supporting sub-structures of sleeper/joists.
Pedestals utilize a self-leveling swivel head with slope compensation from 0 - 5%. A screw-jack base makes final adjustment levels effortless for perfectly level deck tile surfaces. Schedule 40 PVC pipe (up to 24 inches at their maximum safe height) is what gives each pedestal support additional strength to withhold live loads up to 1,200 lbs.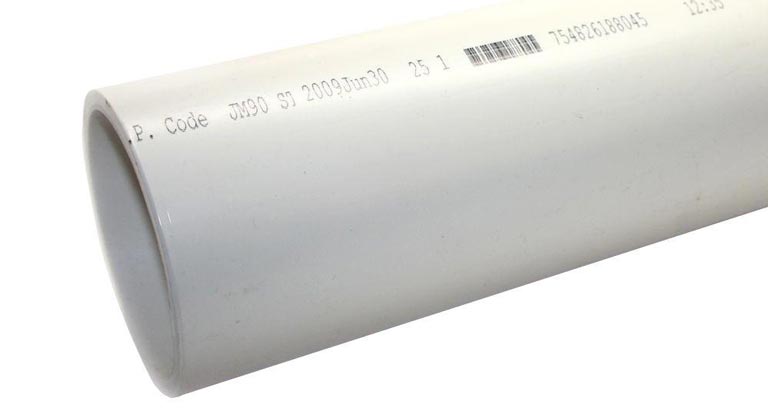 4 in. x 2 ft. PVC
Schedule 40 Plain-End
Convenient job-site PVC can be ordered and shipped to make pedestal installations much quicker with less headaches. Pre-cut pieces measure 4" in diameter and are 24" long to allow for maximum pedestal heights as well and multiple smaller PVC support heights for an efficient installation.
Orders can range from single pieces or by the case.
Call for availability 1-866-427-2547
1.)

3/16" Spacer Tabs (4)

To remove tabs: strike with hammer to punch them into the head cavity.
2.)

Leveling Head

Comes pre-assembled. Loosen the stainless steel insert with a 3/16" hex wrench prior to installation. Tighten the insert during initial leveling and final height adjusting.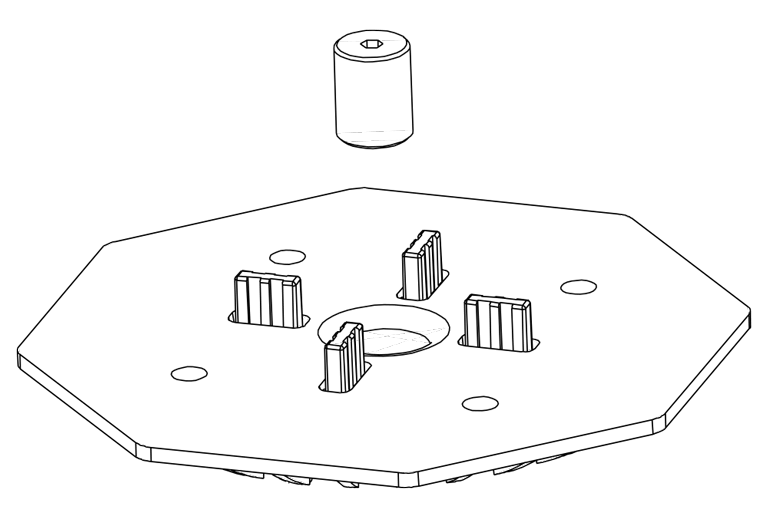 A 3/16" hex wrench is included in the packaging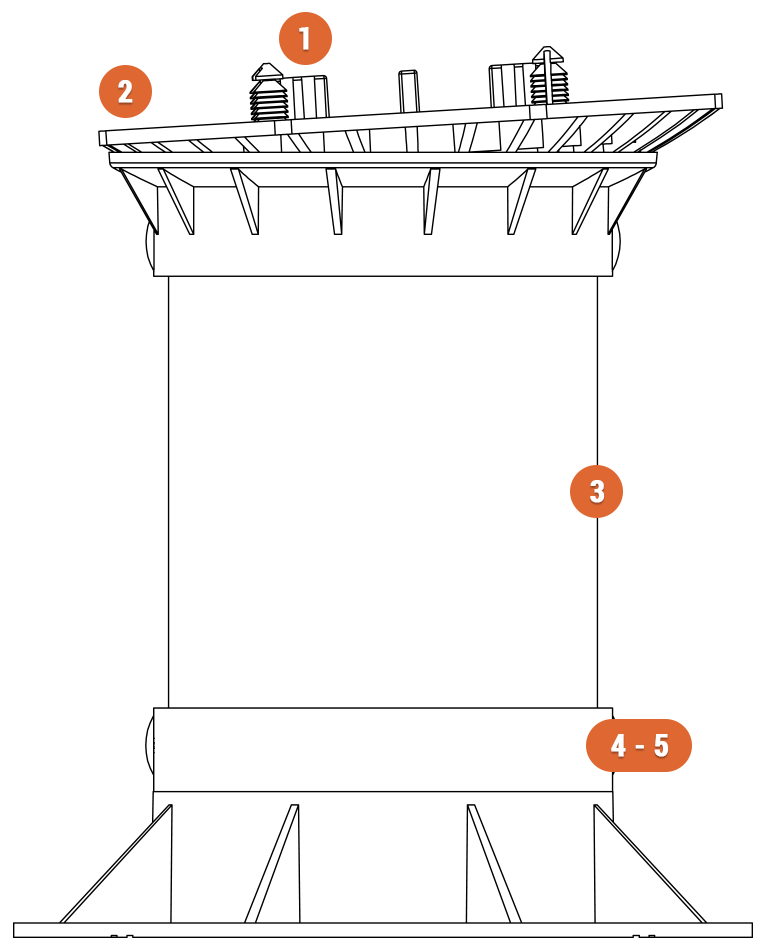 3.)

4 in. PVC Schedule 40 Plain End Pipe

After determining level deck tile cavity height, cut Schedule 40 PVC on site. PVC is press-fit into the head and the base.

DO NOT USE OPEN-CELL PVC!

Drill 23/64 inch holes through the PVC at the designated holes in the head and base to insert pine tree fasteners.
4.)

Screw-Jack Base

Screw-to-adjust base comes with the coupling fully seated. Prior to installation, turn the coupling out 1 full turn for fine adjustments; approx. 1/8 inches of threads will show.

DO NOT extend more than 4 full turns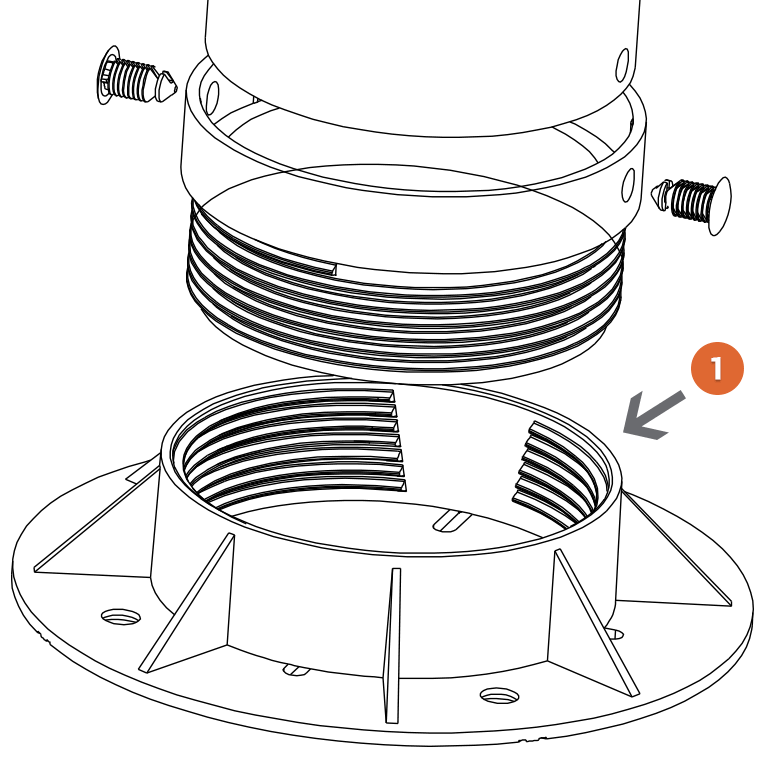 1.)

Screw-To-Adjust

Adjust base height up or down for minute fractional increments with the threaded base for perfectly straight and level deck.
2.)

Pine Tree Fasteners

Pine tree fasteners accompany all orders for secured the base and head to the PVC.

Drill 23/64 inch holes into the PVC to insert the pine tree fasteners.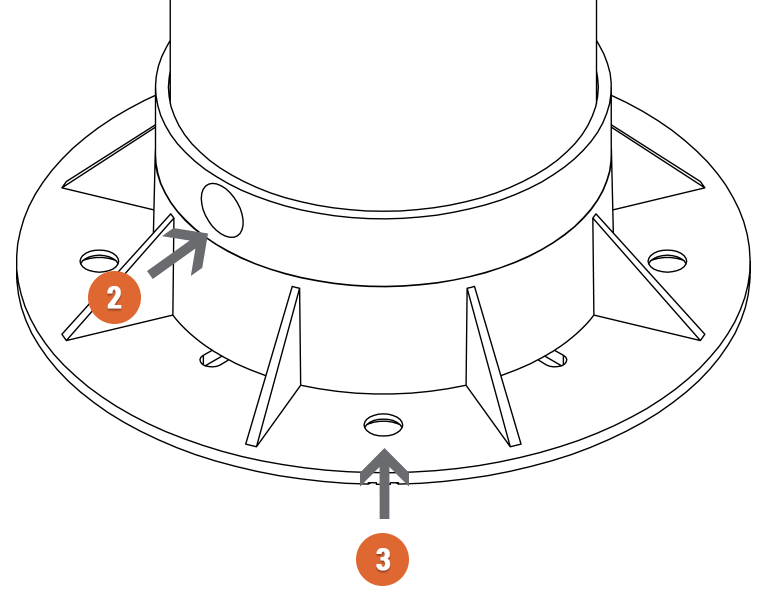 3.)

Secure the Base

When applicable, fastening hardware can be used to secure the base to substrate.
The PVC pipe fits inside the cavity of the pedestal head and the pedestal base. To acquire the correct height of PVC; the head base, and the nominal thickness of the deck tile must be subtracted from the finished elevation of the deck tile surface for accuracy. The screw-to-adjust base will provide final height adjustments.
The PVC "press fit" connection of the head and bottom screw-jack base requires no gluing.
NOTE: The minimum height allowed for Altitudes Pedestals® is 4-5/32 inches high. Minimum height pedestals must include 1-1/2" Schedule 40 PVC to connect the head and base.
Always seek the professional advice of a licensed and accredited architect prior to installation.
ALL LOCAL AND STATE BUILDING CODES MUST BE ADHERED TO AT ALL TIMES.
Planters, grills and heavy objects must have 6 pedestals underneath each deck tile for additional support. Add a pedestal to the sides of all deck tiles that will receive additional weight.
Always seek the professional advice of a licensed and accredited architect prior to installation.
ALL LOCAL AND STATE BUILDING CODES MUST BE ADHERED TO AT ALL TIMES.
1,200 lbs. Maximum Load
(maximum each pedestal)
Safety value for maximum permissible load of 1,200 lbs. per pedestal shall not be exceeded. Specific usage is intended for pedestrian terrace roofs, plazas and technical floors. The various components of the DeckWise® Altitudes Pedestal® System are manufactured from polypropylene resin charged with talc 20%.
Pedestals are warranted up to 1,200 lbs. of load.
Please see complete Limited Liability Warranty for details at
www.DeckWise.com/warranty