Uses: WiseBond™ Deep Pour™ Epoxy is a premium commercial grade casting resin allowing up to 2¨ of depth in a single pour. Perfect for wood/epoxy tables and large casting applications. Low heat, Low VOC, and Low odor makes this product perfect for both the professional artist and the everyday woodworking hobbyist.
Before Combining: Resin "A" and Hardener "B" should be between 70°F and 85°F before mixing together. If needed, place both containers in warm water around 110°F to 120°F for approximately 10 minutes prior to mixing. Ambient air temperature should be between 70°F and 85°F. Work space should be dirt and
dust free.
Mixing: Thoroughly mix 2 parts Resin (A) to 1 part Hardener (B) for 6 to 8 minutes. Stir with a paint stick or paddle mixer attached to a drill.
CAUTION: Be careful to not introduce air into the mixture while stirring, as it can cause bubbles. Pre-sealing edges with a quick-drying epoxy will prevent foaming from porous wood.
Pot-life: The mixed product inside the container may begin to heat up after 10 minutes, shortening the available working time. Do not breathe in vapors. Follow all safety instructions listed.
Pouring: Slowly pour WiseBond™ Deep Pour™ directly into a mold, or void that you wish to fill. If more than one kit is needed to fill a void, take time in between pours to pop bubbles with a butane blow torch. Continue to pour until you have achieved the desired thickness or up to 2¨ max depth. Torch as needed up to 2 hours after initial pour to remove air bubbles.
CAUTION: Pouring more than 2¨ thick may increase the risks of drying defects. Do not use if desired thickness is less than 1/2¨. If more than 2¨ of depth is needed, allow the product to dry for 24 before pouring consecutive layers of desired thickness. NOTE: If longer than 24 hours have elapsed between a layer pour, scuff with 120 grit sand paper to ensure adhesion.
TIME TO RE-POUR: 24 HOURS
DRY TO TOUCH: 48 HOURS
LIGHT USE: 72 HOURS
FULL CURE: Product will continue to harden up to one month.
Clean up: Uncured epoxy can be cleaned up with acetone. Epoxy that has cured can only be removed by abrasives.
Shelf life: Unopened product is best used within 1 year. Although the epoxy can still be used, it may begin to yellow slightly in color.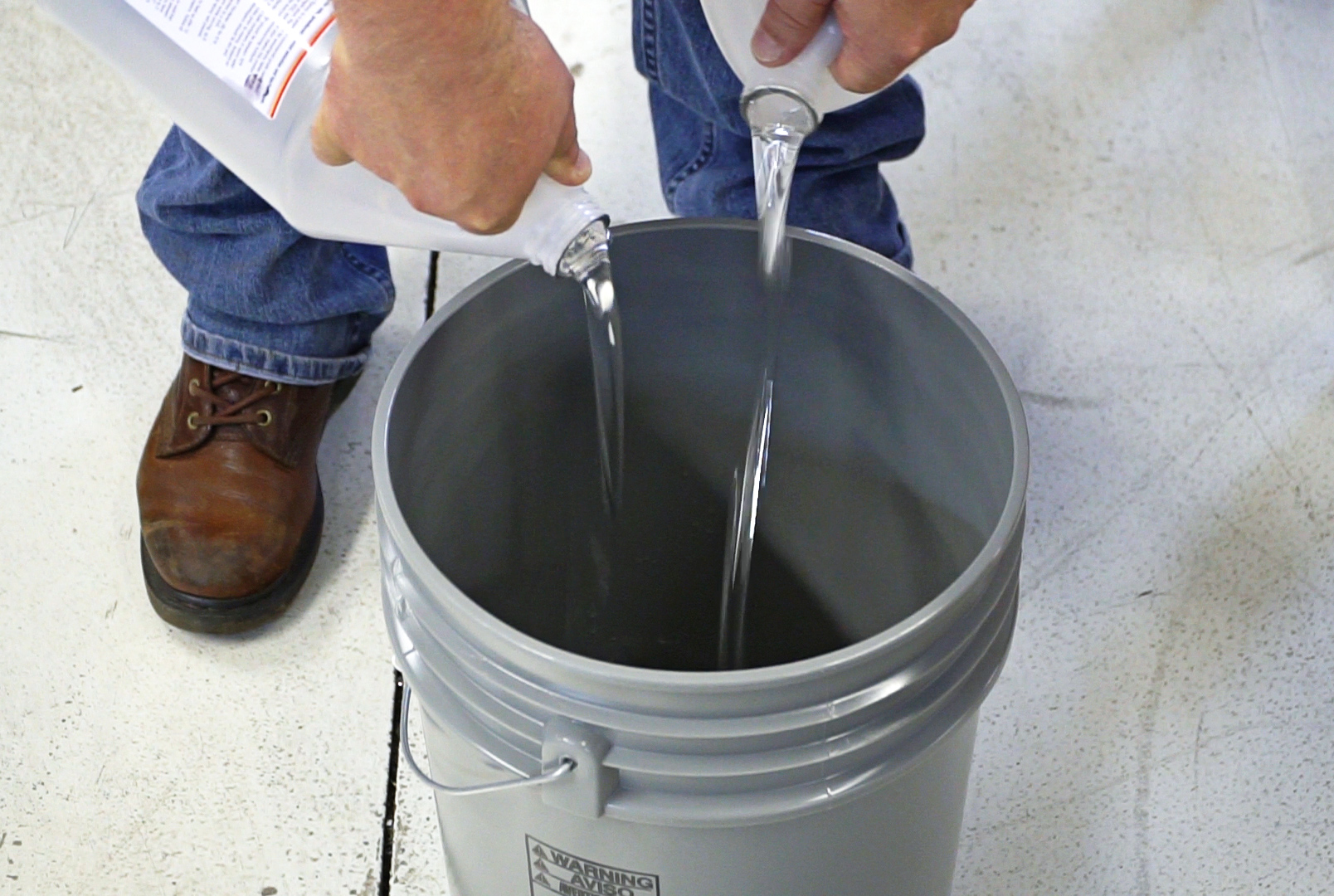 Danger
Hazard Statements
Causes serious eye irritation. Causes skin irritation. Harmful if swallowed. Toxic to aquatic life with long lasting effects.
Precautionary Statements
Prevention
Do not eat, drink or smoke when using this product. Wear protective gloves, clothing, eye and face protection. Avoid release to the environment. Wash skin thoroughly after handling.
Response
IF IN EYES: Rinse cautiously with water for several minutes. Remove contact lenses if present and easy to do. Continue rinsing. If eye irritation persists, get medical attention/advice. Take off contaminated clothing. IF SWALLOWED: Call a POISON CENTER or doctor if you feel unwell. Rinse mouth. Collect spillage. IF ON SKIN: Gently wash with plenty of soap and water.
Storage
Keep all containers away from sunlight and fluorescent lighting. Store at room temperature and keep tightly closed at all times.
Disposal
Dispose of product and container in accordance with all Federal, State, and local regulations.