When should you use Hardwood Plugs?
Here, at DeckWise®, we believe you should use hidden deck fasteners when you can. However, we know there are some building situations that simply aren't suited for using clips. When that problem arises don't fret, hardwood plugs are to the rescue.
Hardwood plugs are used when you have to drill directly into the face of the wood. You start by pre-drilling the hole into the wood. Then, drill your decking screw into the hole. After that, you insert a dab of glue into the hole and insert the hardwood plug. Occasionally, part of the plug may protrude out of the wood. If this occurs, remove the protruding part with a hand tool or sander.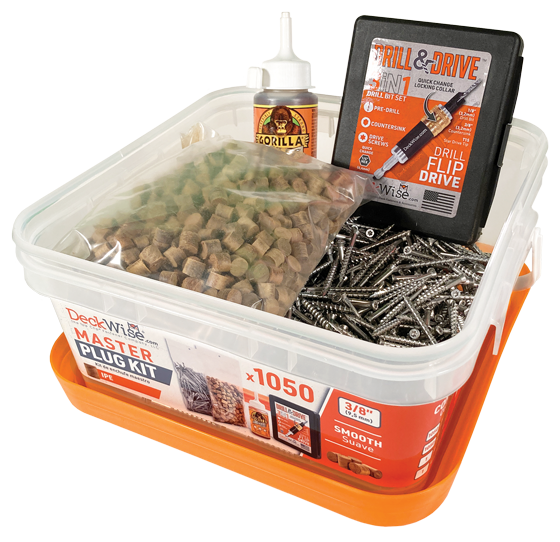 There are many different hardwood plugs, so how do you choose the right one? Well, we offer the DeckWise® Master Plug kit. This kit is available in five of the world's best hardwoods. We offer Ipe, Cumaru, Tigerwood, Garapa and Massaranduba plugs. Also, 350 or 1,050 hardwood plugs, 350 or 1,050 DeckWise® stainless steel screws, one complete Drill & Drive™ kit, and a 4oz bottle of Gorilla Glue is all included in our kit. That's right, we even include glue in our kit!
Our overall goal with the DeckWise® Master Plug kit is to simplify all your decision making. We try to accomplish this by providing you with everything you would need for proper plug installation. To learn more about our kits go to www.DeckWise.com.