Deckwise® Hardwood Finishes Meet or Exceed VOC Regulations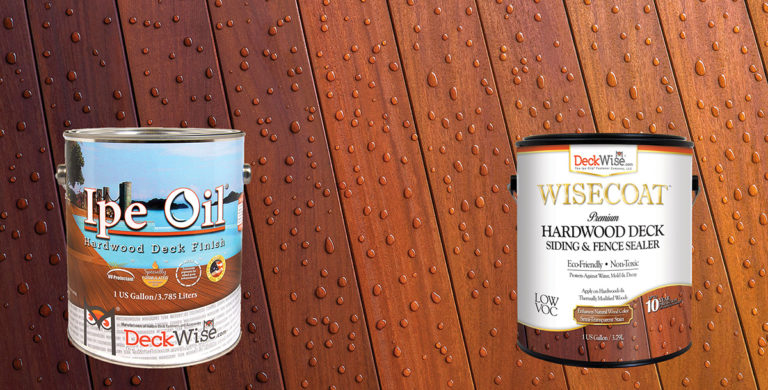 Whether you stay ahead of national VOC regulations; are genuinely concerned for the environment; or looking for a beautiful hardwood finish for your deck or siding, DeckWise® has the perfect options.
With the current ramped-up talk and new legislation over new state AIM regulations for lower VOC levels of wood coatings and finishes, many homeowners and contractors are seeking new products that comply. This industry wide push will not go away and already affects many brands. Fortunately for those of you living in an area with current low-level VOC regulations, you are already accustomed to the benefits of a low VOC wood finish.
While the DeckWise® flagship hardwood finish, Ipe Oil®, is already a low 250 g/l VOC, in 2019 we introduced our Ipe Oil® 100 g/l VOC hardwood finish to meet these stricter regulations. This is the same great formula, same semi-transparency, and same luxurious finish, just with a lower VOC.
For anyone installing thermally modified wood decking or siding, Ipe Oil® again delivers a beautiful finish with exceptional results!
Additionally, our WiseCoat® Premium Hardwood Deck, Siding & Fence Sealer is a low 53 g/l VOC formula. It is an environmentally friendly formula perfect for those seeking a water-based wood finish. It's semi-transparent tint leans towards the amber side and really makes hardwood wood grains pop!
Our WiseCoat® has true waterproofing features, is durable, and is a long-lasting hardwood (or thermally modified wood) finish. It penetrates deep to coat the microscopic wood fibers and is guaranteed to impede water intrusion for up to 10 years on vertical surfaces and 6 years on horizontal surfaces. That's pretty amazing!
Both Ipe Oil® and WiseCoat® finishes help to prevent the harmful effects of mildew and mold, dry rot, cupping and peeling of most any hardwood specie. Each is a non-film forming formula allowing wood to age naturally and their semi-transparent tint adds UV blockers to thwart your wood from graying, while enhancing the natural wood grain.
For more information about the DeckWise® line of hardwood finishes visit https://www.deckwise.com
Looking for samples? Just fill out this easy form and we will gladly send a 1/4 pint to try! Click here!
P.S. Don't neglect properly cleaning your hardwood before apply your wood finish. Check into the DeckWise line of Wood Cleaners and Brighteners to properly prepare the wood surface!
NOTE: The American Coatings Association at www.paint.org is an extremely valuable resource for current state and regional VOC regulations.